Outdoor Tile Ideas for Patio
It's the perfect time to start thinking about transforming your patio into a new hangout spot. With a spacious and resplendent patio, one can go outside without actually going out.
What's the Trends?
Having a patio at home is a beautiful idea for anyone who likes to relax after a long working day, but it can be unexciting without some elegant tiles on it. An outdoor patio is more than just an outdoor space in your garden or backyard. You can throw a birthday party or have dinner with your family. Here are some inspiring ideas to transform your dull patio into small heaven in your backyard.
Concrete Effect Patio Tiles
One of the most trending outdoor tiles for patios in the year 2021 is the concrete effect patio flooring tiles. Concrete effect tiles come in a wide range of patterns and designs, which give the floor an immaculate and chiselled look. These tiles can bring about a minimalistic and simple appearance to your patio. You can enhance the look by adding either modern or traditional decor items based on your preference. Lounge chairs in complementary colours will look great with these concrete effect patio tiles.
Stone Effect Patio Tiles
The elegant and exemplary stone effect patio tiles are easy to install and come in a multitude of neutral colours and patterns. From unglazed matte finish to slip-resistant finish, stone effect tiles give your patio a natural appearance. You can choose various sizes in a single look for a unique setup. Decorate your patio with plants to complete the natural effect. Additionally, you may even add a stone bird feeder for a brilliant finish.
Wood Effect Patio Tiles
These are some of the best tiles for outdoor patios. The wood effect patio tiles are ideal for people who desire contemporary and sophisticated flooring when renovating their patio. Wood effect patio tiles can make your patio feel cosy and attractive and are a great alternative decor style. You can decorate your patio with rustic style furniture like picnic tables and benches. You can also add accessories like antique lamps to elevate the look.
Marble Effect Patio Tiles
These outdoor tiles for patios combine antiquity and modernity to transform your typical patio into an exuberant and artistic patio. Moreover, being synonymous with elegance and luxury, marble effect patio tiles are the perfect floor covering for an outdoor patio, giving it a classic and timeless look. Complement this look with stylish furniture to give your patio a sleek finish. With an assortment of colours and designs, from white to grey, these outdoor patio tiles should be on your list.
Choose Elegant Tiles for Your Patio
When designing your patio, picking up the most appropriate tile design or colour, or materials can sometimes be a tough choice. Choosing the correct materials is important like picking the perfect design. Here are some of the tile types and usability you might want to consider before choosing the best outdoor tiles for the patio.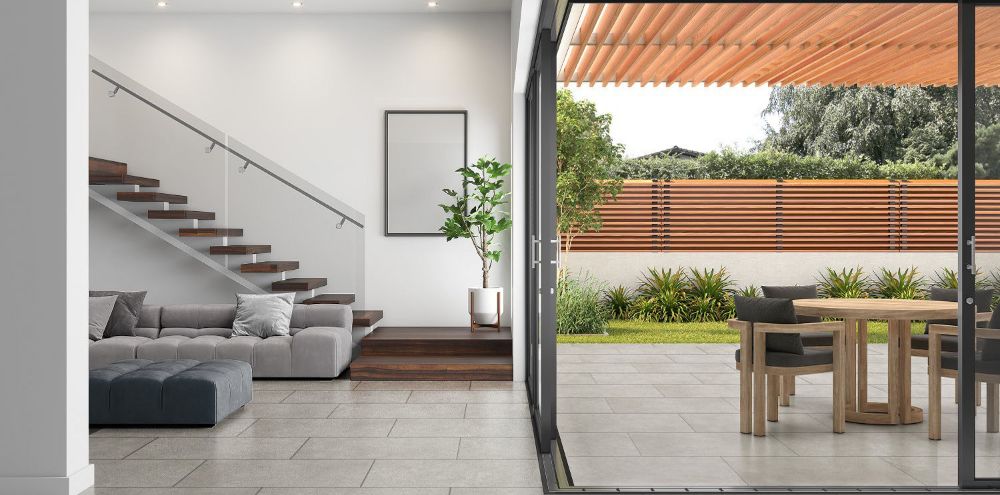 Ceramic Tiles
The simplest choice of outdoor tile for your patio can completely change the way you look at your patio. The beauty of the patio is defined by the design and the colour of the tiles you choose. If anything that outshines ceramic tiles from porcelain tiles, it might be the assortment of colours and patterns that come with the ceramic tiles. There are a plethora of patterns when it comes to ceramic tiles; for example, the chevron floor tile pattern enhances your patio with a zigzag pattern, which might look picturesque on your patio, adding elegant and contemporary vibes. If you're looking for outdoor tiles for your patio at the most affordable price and want them to look elegant, you should consider ceramic tiles for your patio tiling.
Porcelain Tiles
Porcelain tiles are one of the simplest ways to make your patio look elegant and stylish. Most people consider porcelain tiles to be the go-to tiles for outdoor areas, especially the patio area. As porcelain tiles require the least amount of maintenance, they are considered the most desired outdoor tiles for patios anywhere in the world. Porcelain tiles are heated to an extremely high temperature during the manufacturing process, which automatically makes them denser and more robust than most other outdoor tiling alternatives. Patios with porcelain tiles look spick and span without having you put your back into it.
PORCELAIN PAVING IN SHORT:
● Durable and extremely hard-wearing ● Affordable ● Stain-resistant ● Frost-proof ● Non-slip Surface (with R11 anti-slip rating) ● Moss, algae and mould resistant ● No need of sealing ●An attractive and practical alternative to expensive natural stone ● Dozens of great-looking styles and colours ● Easy to clean ● Always look as clean and fresh as the day it was installed with minimum maintenance ● Square or rectangular sizes in 20 mm thickness
Bottom Line
The features mentioned above make porcelain paving slabs ideal for creating patios, outdoor pathways and utility areas. Especially for households living in the UK with unpredictable weather!
Getting the best outdoor tiles for your patio is no mean feat, but it is worth the time and effort. Before choosing the best outdoor tile for your patio, it is advisable to read some ideas online which might help you explore the perfect outdoor tiles for your patio.