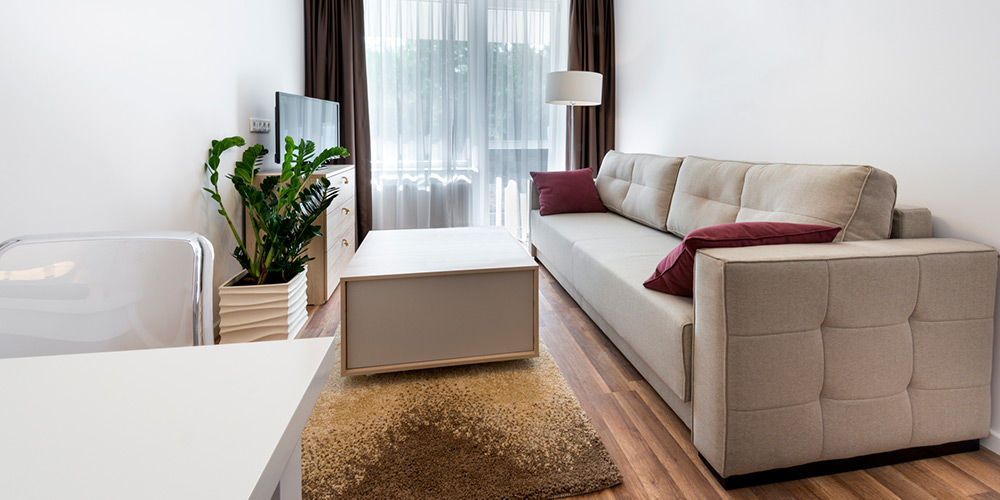 How To Make A Small Room Look Bigger | Design Ideas
Often, you may feel that the smallest room in your house is of the least value. While you can't increase its size, you can enhance the space. Here are some design ideas that will make small rooms appear spacious.
Prefer Light Background: Tile & Parquet Flooring
The general rule of thumb is that a lighter flooring adds airiness to smaller rooms. Using floor tiles and natural stone that have a glossy finish helps brighten the room. While installing parquet flooring, you can use wider boards or apply placement techniques such as laying it diagonally or along the room's longest wall. These ideas trick the brain into thinking that the room is more spacious than its actual build.
Use Light Color On The Walls Too
Applying the techniques of light to walls would entail using pastel and neutral shades. What works best is the use of contrasting colours to create an illusion of a larger room. For instance, one can pair a lighter shade of wall with a dark floor. Further, one can opt for a monochromatic colour scheme where the wall, ceiling and floor are all themed around the same colour. This option provides an effect where the room looks significantly larger.
Use Wall Paper
Contrary to popular belief, the use of wallpaper as a feature wall makes the room look larger. Here, one can use unique patterns such as murals, art walls, nude shades, etc. Further, long strips of wallpaper give the impression that the room is stretched upwards.
Place A Mirror In Your Room
Visually enlarging a room using mirrors is one of the oldest designer tricks. Due to their reflective properties, mirrors also reflect light into your room interiors. A well-placed mirror helps a great deal in illuminating a room using natural light. Most often, mirrors are placed end-to-end on a wall, creating an illusion of doubling up a room. Placing a mirror opposite a window reflects the view from outside and helps create an impression of an open room. Have a small window? Try adding a mirror effect to your ceiling. Have a dark wall? Place a mirror on it and make it lighter.
Add Depth To Walls By Using Mirrors And Niches
Mirrors also add depth to a wall based on its size and placement. The most successful method is to place a mirror on the wall you see from the viewpoint of the door. One can also experiment with artistic shapes or frameless mirrors that blend into the background. Mirrors that run continuously around corners also add character to a room. Another creative way is to add a wall niche, i.e., a decorative nestled box designed into the wall. This customisable decor option is often used as a small-space solution. In contrast to mountable shelves, they do not jut out of the surface and make the room look bigger.
Maximise Natural Light or Make Extra Lightings
Here are some small room ideas using lighting as the critical element :
Opt for sheer and blinds for windows instead of heavy curtains to let in more light
Use multiple small light sources as against a single light source
The use of transparent furniture or design elements such as screens, tables or doors attracts natural light
Placing lights in corners or recesses is a good option
Use backlights behind frames or mirrors to provide depth
Add lights to shelves and wardrobes
Pay Attention To Balance And Proportion
A small room designed by making the best use of space, and balancing all elements are aesthetically pleasing. Here are some tips :
Use of the Golden Ratio (60:40) - where one should use 60% space for furniture and decor and 40% is retained as open space.
Including multifunctional furniture such as a daybed, ottomans usable as a side table, etc
Avoid bulky furniture and replace singular pieces with 2-3 smaller ones
While adding paintings or hangings to the wall, one focal element works better than several small pieces
Use larger floor tiles to make the room appear bigger
Interior Design Ideas for Small Rooms
Let's look into some unique designs that show us how to make a small room look bigger :
Using the same kind of flooring across all rooms at your home gives a feeling of a comprehensive space
The use of thin stripes in decor makes the space appear taller, whereas horizontal stripes make it look wider
A lower furniture setting will give the impression that the height of the room is greater.
Avoid simple wood planks without knots and busy patterns on them
Small spaces need to be thoughtfully designed to optimise the space in the best possible way. The process will involve decluttering and concentrating on utility to arrive at a creative and sustainable design. With these ideas at hand, you can now enhance even the smallest of spaces.