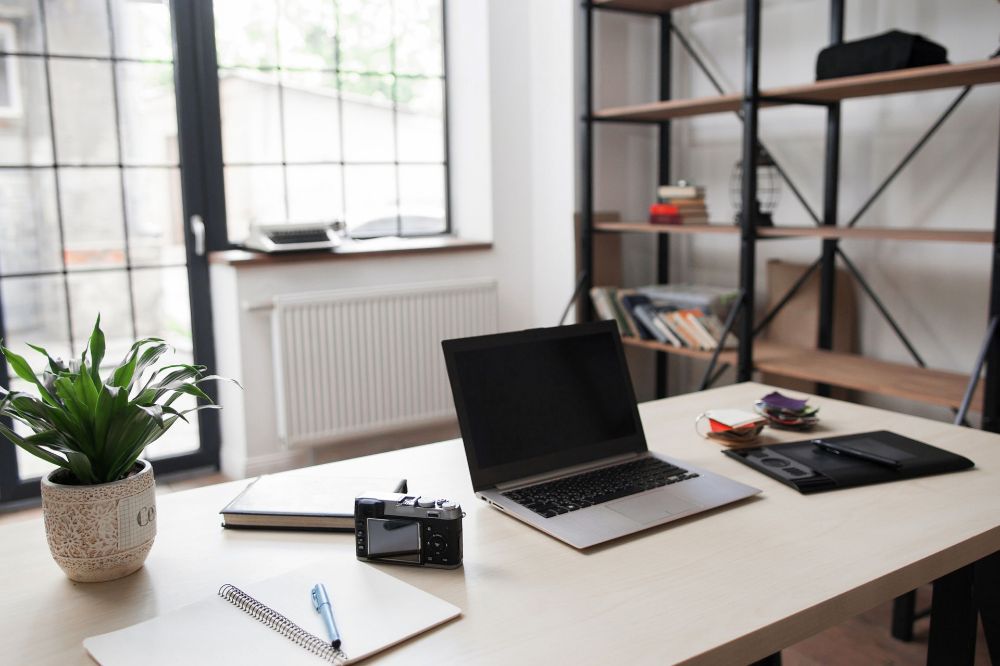 Home Office Design Ideas
The idea of having a productive personal space is not a new concept, but it has been steadily gaining popularity thanks to the COVID-19 pandemic. From schools to offices to personal hobbies, everything has become virtual to allow you to stay within the comfort of your home. There are various possibilities when it comes to deciding your home office design layouts. You need to identify the nature of your work and plan your ideas accordingly.
Do you know that the productivity of your work is directly dependent on your work environment? Let us look at a few brilliant home office design tips to upgrade your current small office with the right colour palette, the perfect furniture, and a suitable ambience.
How Do I Create a Creative Home Office?
Try Out Various Colour Combinations:  Colour plays a crucial role in defining the mood and can make the space look smaller or larger if experimented with properly. You need to go for bold colour furniture for floor tiles with a light coloured base. You can even have vibrant coloured wallpapers to inspire creativity and productivity. The home office is the best place to experiment with different patterns and textures to provide a more cohesive look to your space.
Make the Best Use of Your Space:  Maybe you did not intend to have a small office design integrated into your original home layout. You can make your cosy corner by transforming your empty closet into a small workstation. Use all your available walls ingeniously. You can install a wall-mounted desk, and you are set to start your work. Adding storage units on the walls also helps you declutter your desk and help you easily fold the desk flat to the wall when not in use.
Adorn Your Space with Greenery:  Spruce up your space and give it life by decorating it with succulents or plants. You can add these to your shelves and add a splash of your colour to those dull brown racks.
Invest in Lighting:  You must not underestimate the importance of good lighting. Poor lighting can lower your energy levels and make you feel lethargic. Set your home office next to natural light or invest in ambient lighting as it will help illuminate and create an allure to your modern home office design.

How Can I Design My Own Home Desk?
Designing your home desk can be a fun affair. You need to choose the appropriate location and the function your desk will serve. Do not sacrifice the beauty of your room to make a soulless cubicle that looks entirely out of place. Make sure that you utilize the space well and create an ambience that is similar to the rest of your room.
A Suitable Desk:  Choose your desk as per your work needs. An upright, or standing desk is a perfect fit for your small home office design ideas. A larger desk is needed if your work requires multiple computer screens or a lot of files. You can add artistic chairs and excitingly personalize your space.
Create Abundant Storage Space:  Having piles of documents can create a chaotic work environment. While planning your home desk, design appropriate storage units and invest in more drawers. Too much clutter can make your home office design look smaller than it should be.
Use a Portable Partition to Create an Intelligent Workstation Area:  Your portable partition can be used to create a workstation thanks to the enclosed space it provides. You can create a minimalistic design and place your desk and drawers or storage units within the space.
Hide Your Desk in Your Cupboard:  This may sound like a strange idea. However, this is useful when you want to have a smooth work-life balance and do not want your laptop on display at all times. Your cupboard can generally accommodate your desk if the desk is small and compact (and especially if it has wheels).
Neatly Organize Your Technology:  Your workstation should be designed to hide those unsightly wires and keep your printer in a concealed manner. Make sure to cover your cords with a fabric cover or create a cable hole port (and use a desk grommet) in your desk to keep your wires from getting tangled and messy.
How to Choose the Location?
Choosing the right location can be tricky, so it is crucial to understand how to efficiently use your space without compromising on the room's square footage. You also need to factor in characteristics like lighting and noise.
Choosing the Ideal Location: You need to consider your preferences and prioritize your home office interior design accordingly. You do not need a huge room to make your home office. Choose a location that has enough lighting and has the least amount of disturbances. Choose your furniture based on the layout of the home office. This will help make your office look inviting and comfortable.