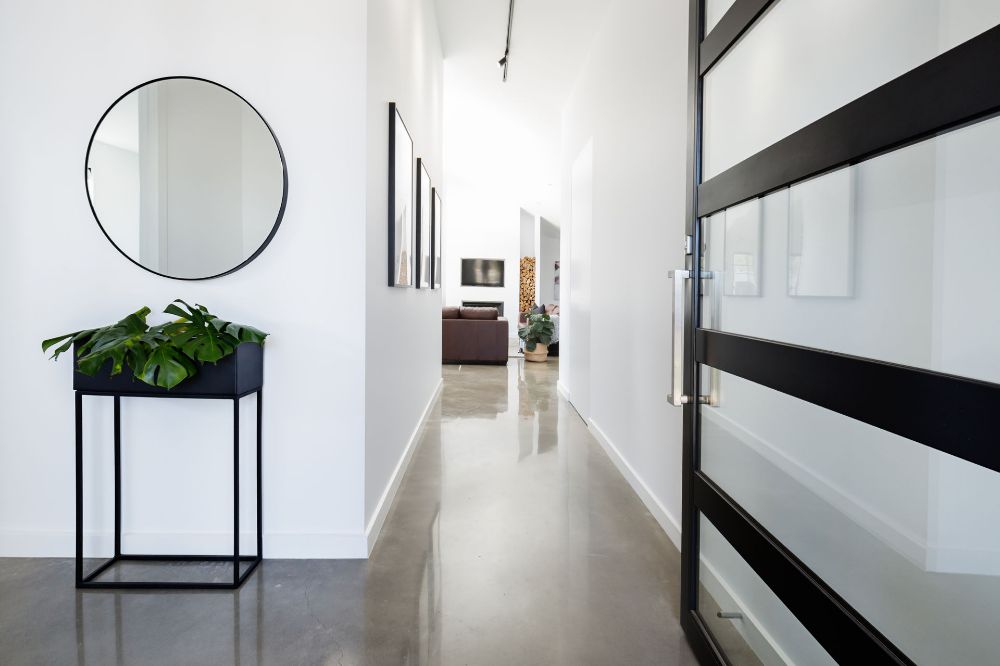 Hallway Ideas & Hallway Tiles
Are you sifting through ideas thinking what is the best way to decorate your hallway? Do you feel your small hallway does not provide valuable home space, or your narrow hallways can be nothing else but a hallway? Then, let us break these myths for you.
A hallway either poses as an entrance to your home or connects other rooms. Either way, it tends to create an impression (or the lack of it) in the minds of a visitor. Here are some hallway ideas to inspire you!
Small Hallway Ideas
Good Lighting: Hallways tend to be deprived of natural light, and brightening them up can help the space look bigger and brighter. Hallway lighting can be done through luminous overhead downlights, lights in skirting boards, ambient sconces, etc.
Add a Gallery Wall: Add character to the unassuming hallway by displaying art collections, adding your photo compilation to the wall, or even vibrant hallway wallpaper. Sometimes this minor change can transform even the smallest area into the most talked-about space.
Smart Storage: Though small, your hallway tends to have a lot of traffic, which means the area tends to get cluttered with shoes, bags, umbrellas, coats, etc. However, the key to small spaces is minimalistic, modular, and multi-functional furniture. For instance, opt for a hallway shoe storage that also functions as a bench, or a slim console for any knick-knacks. Creative touches like cabinets painted in your wall colour and hidden from plain view also work well.
Planning Broken Spaces: Open plans work best for small spaces. Go ahead, take down that wall between the hallway and living area, replace it with semi-permanent partitions like a console, thin bookshelves, or screens. This subtle divide gives the impression of additional space and allows the free flow of natural light and air.
Pocket or Sliding Doors: Typically, any space into which a door opens out ends up becoming congested. Replace your hinged door with a sliding barn door, and save on that precious floor space.

Narrow Hallway Ideas
Taller and Narrower Storage: When you do not have floor space to your advantage, use the ceiling space. Opt for full-height or slimline hallway storage that serves the purpose of quick and smart storage. For instance, think of using a slender shoe shelf with hinged drawers that tip out or a storage ladder that adds an element of style.
Space Illusion with Mirrors: It is no secret that mirrors make typically narrow and dark spaces feel larger and brighter. While adding a reflective surface does make a sculptural statement, it also adds a visual element without overwhelming the space. Simple tricks like propping a hallway mirror opposite a window to reflect light from the outside, help simulate lengthening and widening of the space.
The Foliage Trick: Looking for an innovative way to decorate your hallway? Embrace your green thumb and add some flora to your narrow hallway. Ideas such as succulent vertical gardens, hanging planters, trellis wall gardens, etc., are inspirations for plant lovers.
Floating Shelves: Somedays, you just get tired of the lack of space. Where do I keep the mail? Where do I keep the house keys? Where do I store some books? Floating shelves are the answer to a space-efficient narrow hallway. Ideas such as acrylic shelves, in-built wall shelves, or a pegboard with a combination of hooks and shelves help provide multi-storage and decor options.
A Cupboard Under the Stairs: If you have exhausted all hallway ideas, why not utilise the space under the stairs? With the area around the stairs being an extension of the hallway, it is a brilliant way to create pull-out storage cupboards and drawers that help store anything right from coats, cleaning equipment to Christmas decorations! This perfectly concealed storage adds an element of surprise that no hallway furniture can match.
Hallway Tile Ideas
We have saved the best for last. If you do not want to play around with too many elements, then hallway floor tiles with their myriad colours and varied patterns are your best bet!
Though small or narrow, a hallway provides a unique space for experimenting and creating a focal point with flooring. Since they often lack light, you can opt for glossy floors that reflect light while giving you a premium look. While opting for tile colours in contrast to your wall colours can give it a certain edge, going the monochrome tiles by blending in the walls and floor helps create the impression of space. You can create style statements with exclusive tile options like natural stone, limestone, or even metallic or resin tiles. However, don't shy away from the traditional options like porcelain tiles, ceramic, mosaic, or even the patterned tiles - just add texture to it by creating geometric or fractured patterns with it.
Importantly, tiles are simple and easy to maintain and are even a good option if you live in rental or temporary premises. You can also achieve the look of actual tiles with peel-and-stick decals or vinyl tiles.
At the end of the day, when choosing hallway tiles, one needs to consider practicality in the materials rather than just its patterns and colours. Known to be high-traffic areas, it tends to experience a lot of wear and tear. Hence, before shortlisting your hallway ideas, go for something that ticks the boxes of style, design, and longevity.