We encourage our customers to order tile samples before placing their actual order. By ordering samples, you can see and feel the actual tiles in person, which will give you a better idea of their colour, texture, and quality. You can also see how the tiles look in your space and get a sense of how well they match your décor and design style.
Plus, if you're not satisfied with the samples, you can easily choose a different tile without having to worry about wasting money or dealing with returning a full order.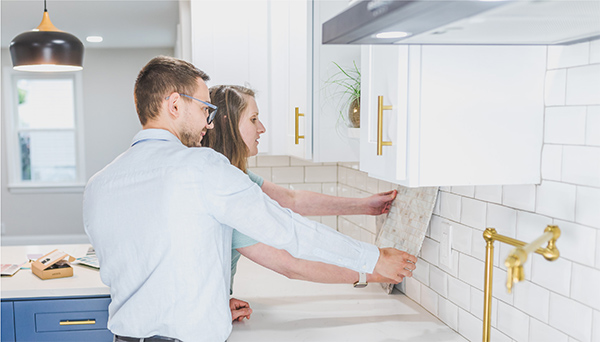 THERE ARE TWO OPTIONS : FREE CUT SAMPLE and FULL SIZE SAMPLE
FREE CUT SAMPLES are small, usually 10x10 cm, pieces of the tile that are provided at no cost to our customers. These samples are usually enough to give you a general idea of the tile's colour, texture, and quality, but they may not be representative of the entire tile. Even if you only order one free cut sample, you will receive the sample box shown below, which contains the tile you requested as well as an extra two tiles to offer you more options. The extra tiles are labeled on the back as "An extra sample to give you more choice". And they are completely free!
FULL SIZE SAMPLES, on the other hand, are actual pieces of the tile that are the same size as the ones you will be using in your project. These samples offer a more accurate representation of the tile and can give you a better sense of how it will look and feel in your space. Ultimately, the type of sample you choose will depend on your needs and budget. If you just want a general idea of the tile, a free-cut sample may be sufficient. However, if you want a more accurate representation or if you're unsure about the tile, a full-size sample may be worth the small investment.
DID YOU KNOW ?
If you decide to order tiles from us after trying the full-size sample, you can use the discount code we'll give you to subtract the delivery cost for the full-size sample from your main order.