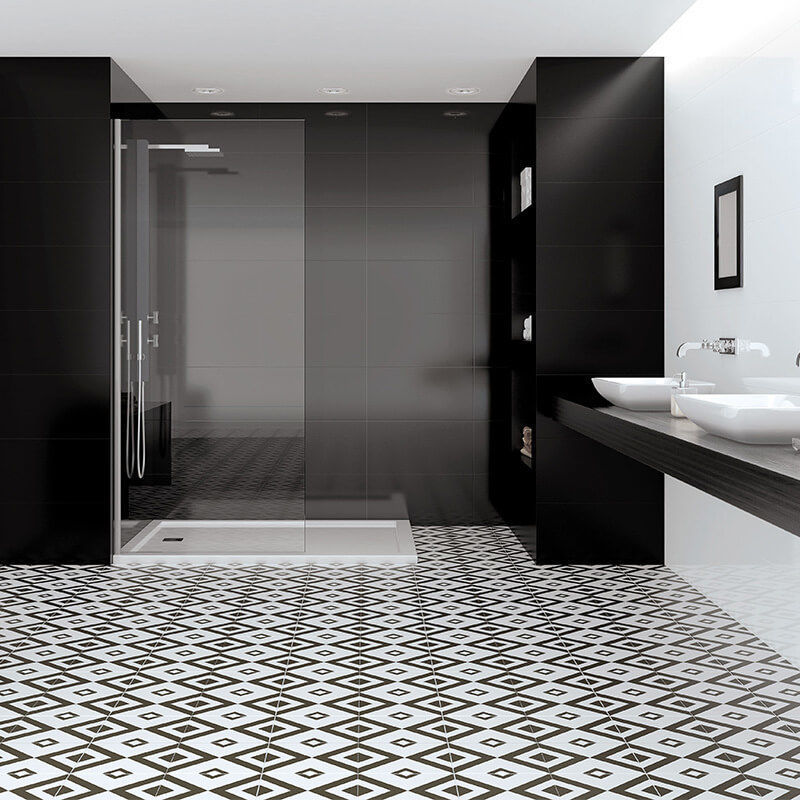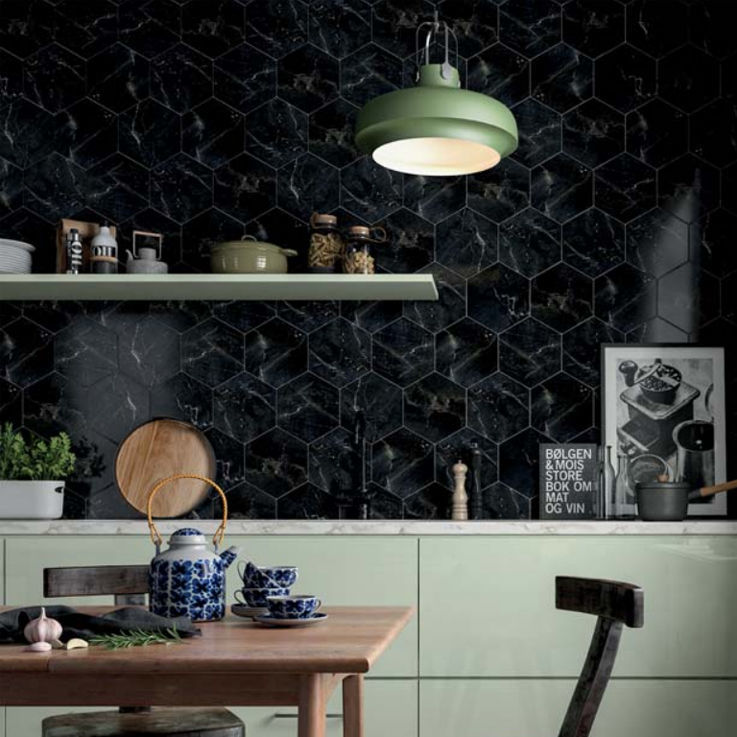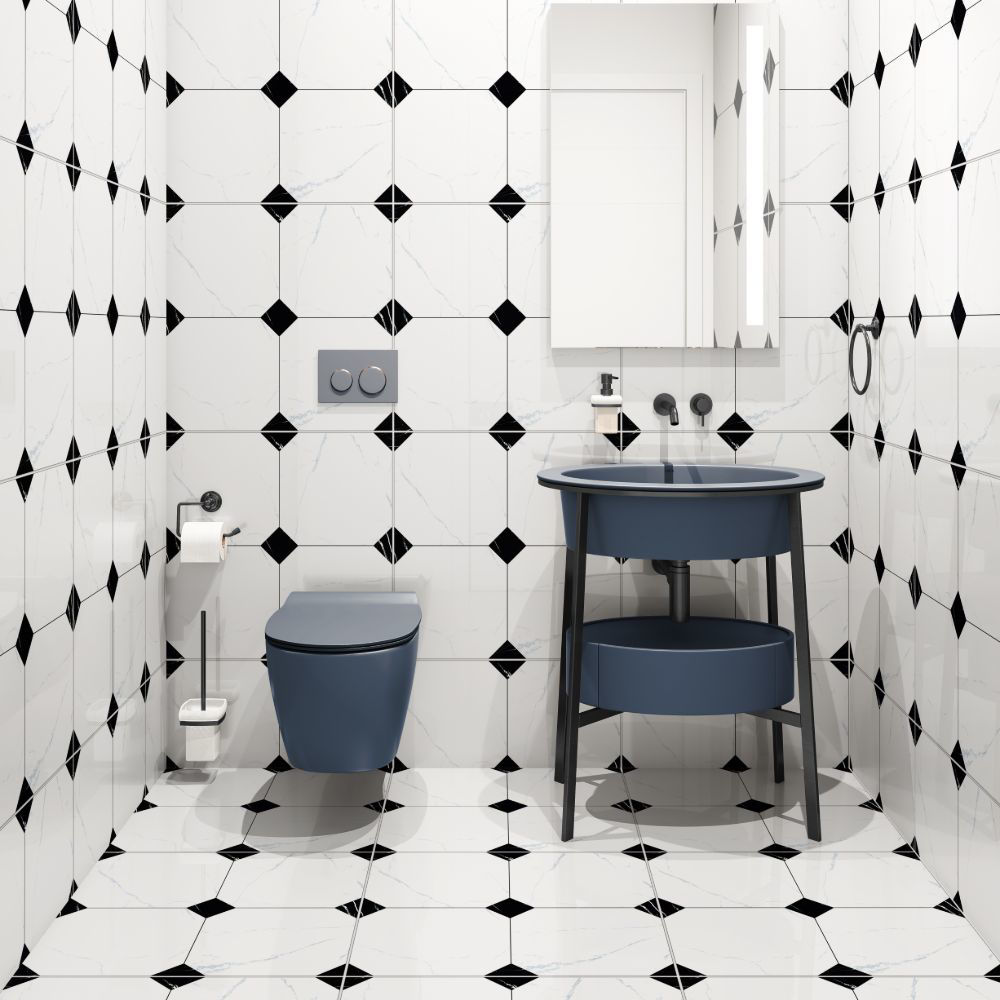 Black & White Floor Tiles
Monochrome interior design trends are in vogue today. Specifically, black and white home design trends are preferred by many owners. The appeal of having a black and white theme lies in its simplicity. You can even add extra elements by experimenting with different shades of black and white. You might wonder if this applies mainly to wall paint or furniture. However, you can choose black and white floor tiles to give your home a striking look. We have put together some black and white tile designs for the different rooms in your home.
Black and White Tile Ideas
It is a preconceived notion that there are very few choices when it comes to black and white tiles. That is not the case at all. In fact, there are so many shades of black and white that you are spoilt for choice! There are multiple combinations that you can choose from to create a floor design that suits your home.
.
Black and White Patterns for Your Kitchen
The look of your kitchen can be made sleek and modern with the right black and white designs. A classic checkered pattern using black and white ceramic floor tiles can create a bold and beautiful look. Complement the floor tiles with simple, white kitchen cabinets. You can also choose black and white Moroccan tiles if you want some interesting patterns on your kitchen floor. Their symmetric floral and geometric patterns create a very pleasing effect. And since they are black and white, they remain subtle and elegant.
If black and white marble tiles appeal to you, then you can choose marble effect porcelain tiles. They are available in black with a white marble pattern or white with a black marble pattern. You can choose either or create a pattern with both to create a regal and sophisticated look for your kitchen.
.
Bathroom Tile Ideas - Black and White Decor
You can experiment with your bathroom floor by creating a chic design with black and white tiles. This colour palette is neutral and can be elevated by adding brass or steel accessories like taps, showerheads, and more. Black and white hexagon tiles on the floor can create a bold look. You can alternate the tiles, or you can have a predominantly black floor with two or three white tiles to create a different look.
Mosaic tiles are very popular in the bathroom, and black and white mosaic floor tiles are stunning. These provide a very retro-like effect to your bathroom. You can choose glossy tiles for a shiny effect or matte tiles for a more subdued effect. Mosaic patterns using hexagonal, square or rectangular shapes are very fashionable and trendy. Accessorise this floor style with antique items to complete the retro look.
.
Black and White Tile Designs for Your Living Room
The black and white patterns need not be restricted to just your bathroom or your kitchen. You can even decide to go with a black and white floor in your living room. This style is definitely very eye-catching and can impress your guests. The beauty of monochrome tiles is that you only need to decide the base colour. After that, you have a variety of shades of that specific colour to decorate with! This applies to black and white too. The living room floor can look great with dark grey or black concrete-effect tiles. Furnish the room with minimalist furniture, and the look is complete.
You can also choose black and white marble floor tiles for a more royal look. These marble-effect tiles are easy to install and can definitely elevate the look of your living room. Another timeless classic idea is to create a checkered pattern with black and white ceramic tiles. They can be laid out either diagonally or straight. Both designs look very visually appealing.
Timeless Black and White Tile Designs
Black and white tiles can be used in hallways, foyers, bedrooms, or dining rooms as well. The classic colour combination is great for flooring designs. When you decide to go ahead with black and white floor tiles, you should first decide what style you want to use. These could be plain tiles that are very easy to choose from. Or, you could go with patterned tiles. These have more options, and you can finalise the one that matches your home style and decor. You should ensure that the designs (whether you choose mosaic, Moroccan, or other patterned tiles) complement the rest of your room and do not clash with the decor. Use any of our suggestions to create a visually stunning floor for any of the rooms in your home. Wow your guests with these black and white tile ideas!