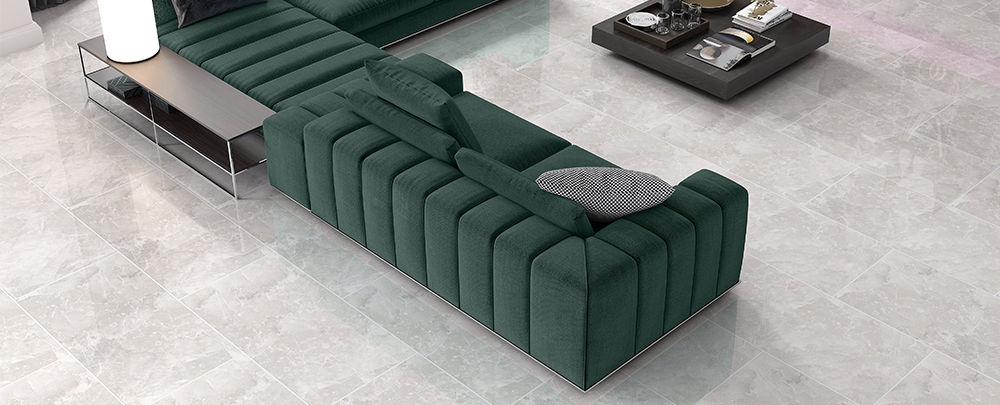 10 Advantages Of Using Tile Flooring At Home
Homeowners are often faced with the predicament of what to do with their floors. Tile flooring has gained tremendous popularity over carpet, wood, or laminate tile flooring. In fact, today, a house without tiles is unthinkable. Let's look at their top 10 advantages:
1. Affordable
Are you looking for something more economical than hardwood, carpet, or marble? Then tile flooring should be your pick. Tiles are not only economical but also have the ability to reproduce the look of other materials as well. Wish to recreate porcelain or stone looks? Try vinyl, linoleum, and laminate tile flooring, which merely costs USD 2-7 per sq. ft. Your other choice would be ceramic and porcelain tile flooring that ranges between USD 5-10 per sq. ft. The added cost is attributable to their durability, resistance, and shelf life.
2. Easy To Lay
Laying tile flooring is time-saving and convenient in comparison to other building materials. For instance, if marble flooring installation took around two weeks, tiling the same space would take just 4-5 days.
3. Water-Resistant
Did you know that along with being vulnerable to acids, marble is porous? There is a reason why tiles are a realistic choice for kitchens and bathrooms. Porcelain and glazed ceramic tile flooring are impervious to water and resistant to humidity, making them ideal in high moisture areas.
4. Durability
Tiles are usually placed in areas with high footfalls like kitchens or passages. They are also highly resilient to staining and abrasion. Installations are known to last for 10-20 years and possibly longer depending on maintenance.
5. Easy To Clean
If you have a concrete wall or a wooden floor, you'll know that they require different cleansers and sprays to eliminate dirt stains and spots. However, you can clean tiled floors effortlessly with a damp sponge, mop, and common household cleaners. Importantly, tiles are dirt, odour and stain-resistant.
6. Low Maintenance
You may have noticed that dust and dirt are clearly visible on a tile surface. Don't fret yet! This occurrence only means that they do not penetrate through the surface and can be easily swept without much scrubbing. Importantly, always remember to use a high-quality grout and sealant, which will prevent water seepage and damage.
7. Ease Of Repair
Have a cracked tile in your sink or near your backsplash? All you have to do is replace it! Generally, while ordering tiles, 10-15% extra is reserved for damages. Hence, homeowners tend to have extra tiles handy with them most of the time. Further, tiles do not need much upkeep apart from applying a sealant once every 4-5 years.
8. Wide Colour Variety
The vast array of hues, textures, designs, and types of tiles brings versatility in style while tiling a space. Did you know that warm and dark tones are recommended if you are tiling larger rooms, while smaller rooms with light or natural hues help make them look spacious?
9. Looks Stylish
With the endless choices in tiles, it'll be difficult not to fall in love! You can choose from various designs such as mosaic tiles, quartz, grestek or even go for tiles with wood or stone-like reproductions. Styles can even be fused or used as borders or runners.
10. Environmental Friendly
Tiles are usually made from clay, sand or glass and combined with other recycled materials. Interestingly, if you are prone to allergies, then tiles are your best choice! They tend to repel grime, and with regular maintenance, you can avoid allergens or dust particles.
How To Lay Vinyl Tile Flooring?
Vinyl tiles are generally laid out in a "peel-and-stick" method and are easily installed even over existing tiles. Prior to commencing, one needs to properly prepare the sub-surface by ensuring that it is smooth and free of moisture, dust and adhesive. Further, the tiles need to be acclimatized 48-72 hours before the tiling process to avoid any adhesive failure.
Next, one needs to measure the room, find the intersection and start drawing chalk lines to identify tile spaces. Then, start mapping out the tiles and once satisfied with the layout, peel the backings to lay down the tile. Ensure that the tile is pressed down firmly and the second tile is also installed tightly against the edge of the first tile. You can then install the rest of the tiles section after section in a stepped pattern. Finally, to set the tiles, it is essential to use a roller evenly on all tiles.
How To Clean Vinyl Tile Flooring?
To remove stains from acidic substances, you rub a mixture of baking soda and water on the floor. After the stains lift, clean off with a vinegar and water solution. For tougher stains, apply rubbing alcohol and scrub with a soft-bristle brush. Avoid abrasive brushes at all times as they can scratch the floor. For basic scuffs, spray and rub WD-40 on the area and later clean off with vinegar and water solution.
Did you know that just adding tile flooring to your home can significantly increase its future resale value? It is no wonder that tiles have gained prominence in the construction industry.